(DTCK) Along with deep integration of Vietnamese economy, the Vietnamese Auditing Firms have played an increasing important role and globally integrated in the aspects of quality and brand name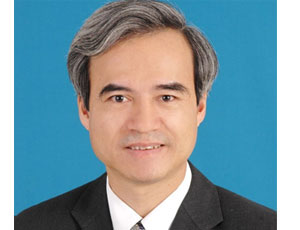 AASC has launched a ceremony changing its name from Auditing and Accounting Financial Consultancy Company Limited (AASC) to AASC Auditing Firm with the target of narrowing the gap with international auditing firms Big 4 operating in Vietnam and bringing Audit profession in Vietnam to a new height, said Mr. Ngo Duc Doan – Chairman of the Member Board, General Director of AASC Auditing Firm.
International Auditing Firms Big 4 have broadened their presence in Vietnam. According to many experts, Vietnamese auditing firms have been in an unequal competence. As general director of AASC - the biggest among auditing firms operating in Vietnam (after Big4), what are your comments?
AASC has elevated the cooperation with international auditing firms Big4 as well as some small and medium auditing firms. In our opinion, the cooperation will bring many mutual benefits to all parties in fostering quality of services provided to clients, improving clients' confidence and increasing revenue from audit services…
If competence is compulsory, AASC will do its best to find niche market and less competitive sections which AASC has advantages to develop rather than directly confront with other auditing firms.
Recently, AASC has organized launching ceremony changing its name to AASC Auditing Firm. What are motivations under this transformation?
Over 22 years operating in the fields of auditing and financial accounting consultancy in Vietnam, AASC has affirmed its prestigious brand name in the auditing and accounting market as well as expanded its presence nationwide. Therefore, to be compatible with AASC's size and enhance the integration of auditing and accounting in the region and all over the world, we have reached a consensus to change the company name to AASC AUDITING FIRM.
Under the new brand name, AASC Auditing Firm still maintained and relentlessly promoted its traditional core values as one of the two first companies operating in the fields of auditing and accounting in Vietnam.
What are the effects after changing company name?
Up to now, after 2 months from launching ceremony to change company name and establish a subsidiary (AASC Consulting and Associates Company Limited – ACG), early signs show that the trust and confidence of clients for AASC has been reinforced. Along with traditional clients, a number of new ones have approached to AASC, contributing to AASC's expansion in auditing and accounting market. Part of new clients has proposed AASC to provide financial and management consulting services…
We have been implementing our plans to spread AASC brand name in providing professional services and human resources as well as expand the company's size and enhance its prestige and status in audit profession. The strategic objective of AASC is to maintain the leading position among Vietnamese auditing firm, narrow the gap with international auditing firms Big 4 operating in Vietnam, lift Audit profession in Vietnam up to a new height and contribute to Vietnam's economic development.