As part of the strategy of providing a digital transformation ecosystem in corporate governance, ADIGITRANS - AASC Digital Transformation has partnered with FreshWorks to provide world-leading technology solutions to customers for businesses in Vietnam and Southeast Asia, ADIGITRANS officially became a solution partner of FreshWorks in Vietnam. This cooperation not only opens up opportunities for both ADIGITRANS and FreshWorks in expanding the market, but also helps businesses have more choices and opportunities to access the world's leading information technology products and services. . FreshWorks' suite of cloud-based solutions provides ideal collaboration, helping businesses connect and communicate better with customers and across departments. FreshWorks not only provides businesses with a 360-degree overview of their customers, but it is also a set of tools that are easy to use and provide a quick return on investment.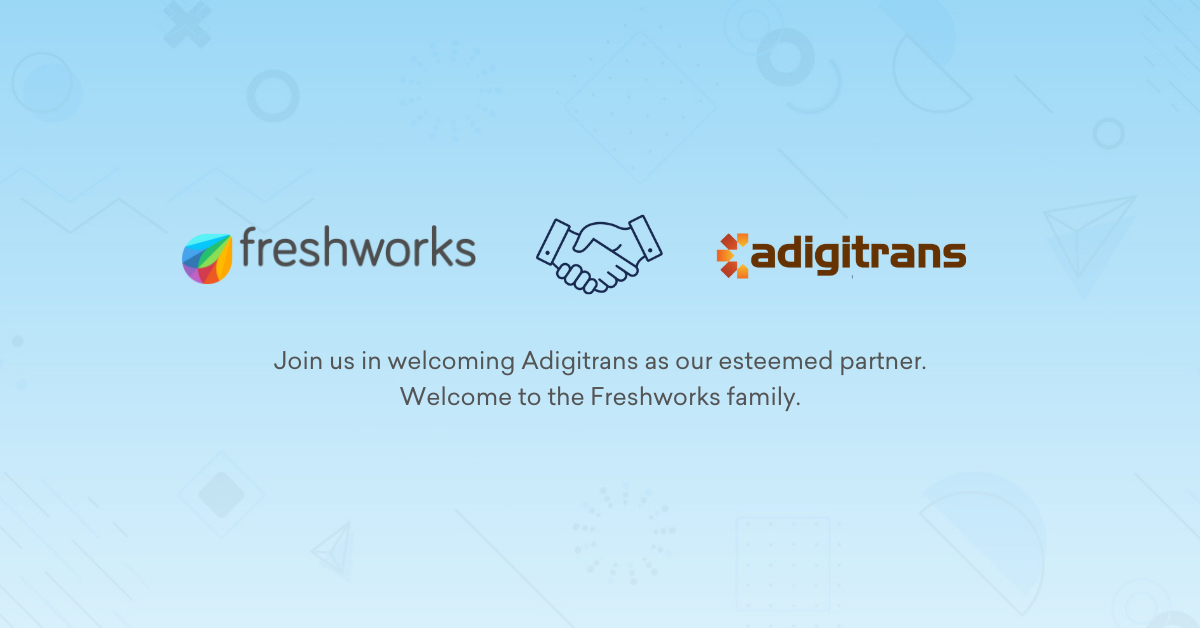 General information about FreshWorks
FreshWorks was founded in October 2010 by Girish Mathrubootham and Shan Krishnasamy. With over 10 years of operation, currently, FreshWorks has its headquarters in California, USA and global offices in India, UK, Australia and Europe.
FreshWorks is backed by investments by Accel, Tiger Global Management, CapitalG (Google Capital) and Sequoia Capital India with a value of $3.5 billion. FreshWorks is used by more than 150,000 major brands around the world such as Honda, Bridgestone, Hugo Boss, University of Pennsylvania, Toshiba or Cisco. FreshWorks solutions have appeared in Gartner's market-oriented research rankings (Magic Quadrants) in 3 categories, including CRM Customer Engagement Center solutions with Freshdesk, Sales Force Automation with Freshsales and IT Service Management Tools with Freshservice. In addition, FreshWorks also provides SMBs for businesses in the fields of healthcare, finance, tourism, media and entertainment, manufacturing, education, IT, telecommunications...
FreshWorks products
1. Customer Engagement Solutions
- Freshchat: Modern online chat software integrated into web or mobile application. Provide customers and employees with a modern messaging service experience. Enable proactive messages based on visitor behavior, send real-time feedback and get all the information context to provide better support service. More specifically, Freshchat can also integrate with CRM tools to manage Leads and orders easily.
- Freshdesk: Intuitive, feature-rich customer care support software. Use Freshdesk to manage all conversations with customers from omnichannel omnichannel at a single place (from Email, Hotline, Live chat, Social Network (Facebook, Twiter), website application, ...), help business does not miss any request. Based on the Cloud Computing platform, Freshdesk provides a variety of features such as ticket management, customer behavior analysis, frequently asked questions (FAQs) setup, automated notification delivery and many other support. other aid.
2. Employee Engagement Solutions
- Freshservice: Bringing a miniature IT Service Desk service to businesses. Management software in the enterprise is easy to use, easy to configure, typically: ticket management, asset management, inventory, contracts, data, catalog functions to help employees easily Select the necessary service during the working process.
- Freshteam: Ideal management software for Human Resources department. A software that supports the human resources department in recruitment, personnel management, holidays, employee data and other work items of the department.
3. Sales & Marketing Solutions
- Freshsales: Support the sales team to manage and approach customers. Provide a CRM platform that fully meets the necessary features for sales activities, such as automating connections with phone and email, tracking customer behavior, scoring leads and managing customer transactions. other transactions.
- Freshmarketer: Increase the conversion rate of users on the web. The All-in-one Conversion Rate Optimization Toolkit is packed with all the powerful features you need to increase customer conversions for your website and sales funnel.


Due to the explosion and development of AI, Freddy AI Bots has facilitated business operations to become smoother, increase customer experience as well as predict and analyze interactions for businesses.
FreshWorks Commitment
Product Commitment
| | | |
| --- | --- | --- |
| Optimize processing time | Fast and flexible | Popular design |
Platform Commitment
| | | |
| --- | --- | --- |
| Customization for all sizes of businesses with the ability to deliver up to 3 million conversations a day in more than 30 languages across 150 different countries. | Customize configurations for each industry with more than 500 built-in APIs. | High security about ISO, SOC II, GDPR, HIPAA… with storage system located in US, EU, ANZ, IND. |