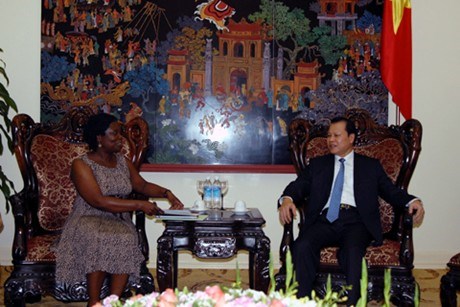 On 7/8/2013, at the Government Office, the Deputy Prime Minister Vu Van Ninh has met the Director of World Bank in Vietnam (WB), Ms. Victoria Kwakwa.
At the meeting, on behalf of the Government, Mr. Ninh thanked the largest multilateral lender's positive support of WB for Viet Nam over the past time.
The Deputy Prime Minister said that Viet Nam has deployed a string of measures to restructure the economy including numerous consultations and recommendations which were proposed by the WB. These measures have worked efficiently. All cooperated programs between the Government and WB has been conducted proactively.
Ms. Victoria Kwakwa emphasized that WB respects Viet Nam's endeavors in economic restructuring especially in the banking system, SOEs and public investment. These fields play the decisive role in Viet Nam's long-term development. In addition, WB acknowledges the achievements of Viet Nam particularly in macro-economic stability, FDI attraction and support for the stable development of the economy. One of the main achievements is that Viet Nam succeeded in establishing the Viet Nam Asset Management Company (VAMC) in line with the country's economic and social conditions. The company is expected to handle bad debts in the economy and revitalize the banking system.
In addition, the Deputy Prime Minister Vu Van Ninh and Ms. Victoria Kwakwa discussed issues which both sides were interested in and related to three main factors need to restructure such as: WB supports expert having experience in restructuring financial sector; supports to VAMC to operate more efficiently in Vietnam economy; supports professional technique in SOEs restructuring processes, etc.
Source: From Vietnamese version.