If the project of restructuring Vietnam telecommunications market was approved by the Government, Mobiphone will be separated from the Post and Telecommunications Group (VNPT). Meanwhile, Mobiphone will develop strongly, serve customer much better and contribute more to the State.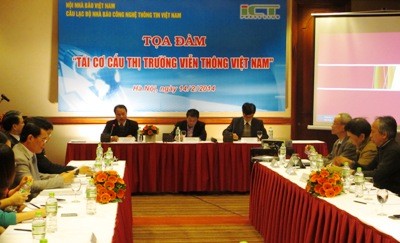 Currently, Mobiphone is specialized in mobile communication. Mr. Le Ngoc Minh, Chairman of Mobifone company in court "Negotiations to restructure Vietnam's telecommunications market" organized in the afternoon February 2, confirmed that if being separated from VNPT, Mobifone will deliver more services, including telecommunications to customers.
Mr. Tran Manh Hung, General Director of VNPT said that VNPT had submitted the proposal to the Prime Minister to restructure the corporation with the opinion of not managing two mobile networks at the same time.
Tran Manh Hung said " VNPT has researched several plans, analyzed the advantages and disadvantages of both financial and economic factors as well as benefit of millions customers ... They also discussed with Ministry of information and communication to find the solutions for healthy financial picture and significant grow in future, therefore, they jump to conclusion to separate Mobiphone.
According to Pham Hong Hai, Director General of Telecommunications, Ministry of information and communication, the plan for separating Mobifone from VNPT has the pros as follows. Firstly, Mobiphone currently has a strong brand-name in the telecommunications market. Secondly, Mobiphone can take opportunity of operating independently to overcome Vinaphone. Thirdly, when separated Mobifone, VNPT still ensure healthy development in the future.
"The equitization of State enterprises is currently concerned by the Government. When restructuring plan is approved by the Government, it will help all equitization of Government business is processed more quickly "Mr. Pham Hong Hai emphasized.
Also at the seminar, experts and analysts said that if Mobiphone becomes an independent enterprise and has the ability to compete with Viettel and VNPT Group then, the market will form at least 3 relatively strong businesses, create balance for competitive telecommunications market and sustainable development.
Source: The Electronic Government of the Socialist Republic of Vietnam