Celebrating the 91st Anniversary of the Founding of the Vietnam Women's Union (October 20, 1930 - October 20, 2021), the morning of October 20, 2021 at Headquarters No. 01 Le Phung Hieu, Hoan Kiem, Ha Noi, AASC Auditing Firm held an intimate meeting to review the glorious tradition of Vietnamese Women, recognizing and honoring the outstanding achievements of AASC Women over 30 years of development and growth, especially after 14 years of converting AASC from a state-owned enterprise into a multi-member limited liability company (2007 – 2021). Attending the meeting were Mr. Bui Xuan Ngoc - Standing Vice Chairman of the Union of the Ministry of Finance, Ms. Ngo Thi Bich Ngoc - Chief of Union Office of the Ministry of Finance, Mr. Ngo Duc Doan - Chairman of the Board of Members, Ms. Do Thi Ngoc Dung – Secretary of the Party Committee/Deputy General Director of the Company, members of the Board of General Directors, leaders of departments and divisions and representatives of women in the units.
Opening the program, Mr. Nguyen Anh Ngoc - Vice Chairman of Trade Union/Secretary of Youth Union/Head of Audit Department 6 presented "Report on the role of Vietnamese women and outstanding achievements of female officers, auditors and AASC staff" throughout the 30-year history of the Company, of Independent Auditing, Valuation Industry. The report has highlighted the image of AASC woman who is extremely gentle but also very strong, is good at both company work and family affairs. Next, Chairman of AASC's Board of Directors Mr. Ngo Duc Doan congratulated and acknowledged the positive and effective contributions of AASC Women. On behalf of the Union of the Ministry of Finance, Standing Vice Chairman Bui Xuan Ngoc congratulated AASC sisters and recognized and appreciated the achievements that AASC has achieved with the significant contribution of female employees to Auditing, Accounting and Finance Consulting, Valuation...
The meeting was closed in a joyful and excited atmosphere with exciting musical performances and fresh flower bouquets given to the female staff by the company's leaders. On the occasion of Vietnamese Women's Day October 20, AASC once again recognizes the achievements of women over the past 30 years, through 14 years of transformation and wishes them to be always full of energy, further contribute to the development of AASC and the Vietnam Independent Auditing Industry.
Some pictures from the meeting:
AASC Chairman Ngo Duc Doan delivered a congratulatory speech to AASC Women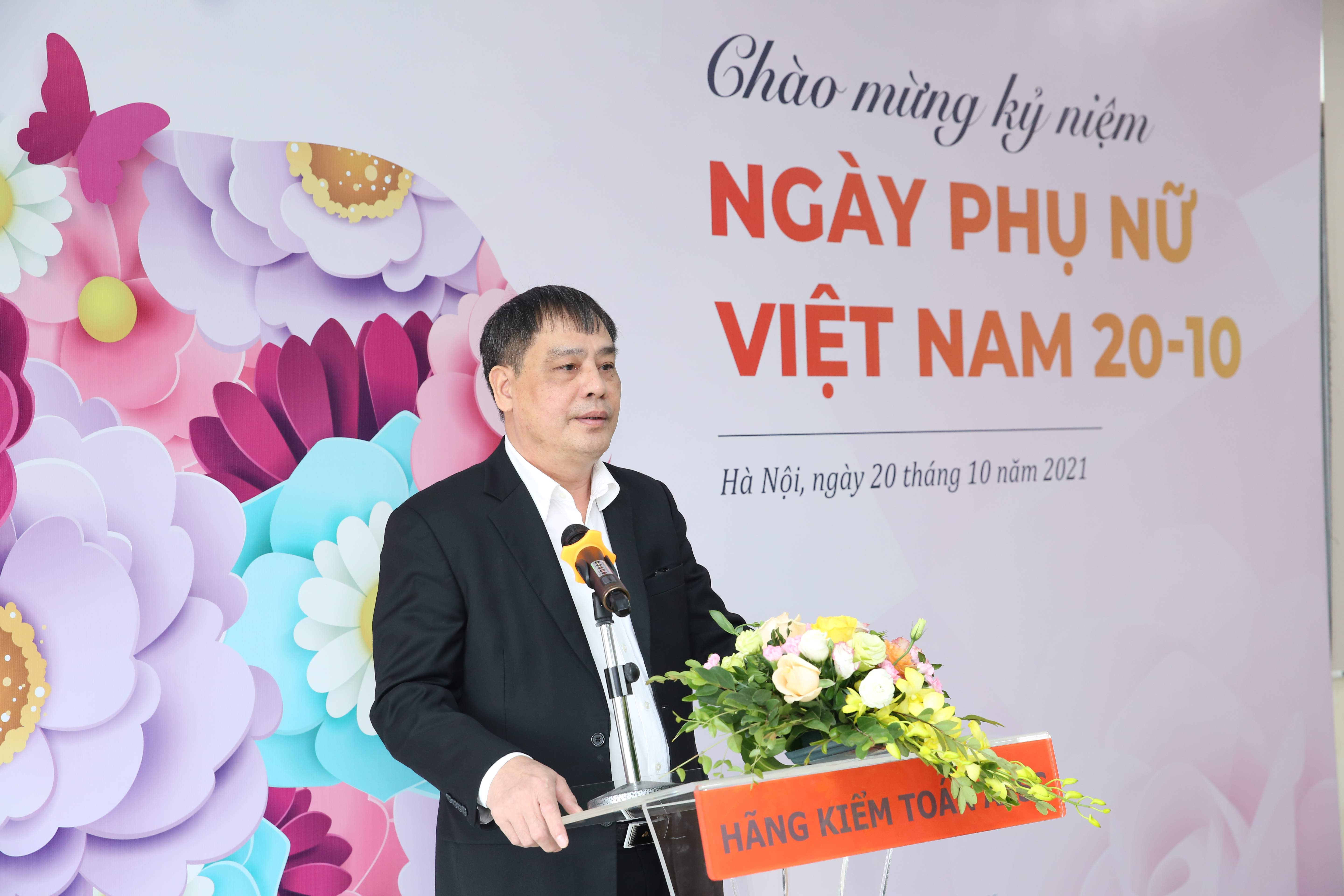 Standing Vice Chairman of Union of Ministry of Finance Bui Xuan Ngoc congratulates AASC Women and Independent Auditing Industry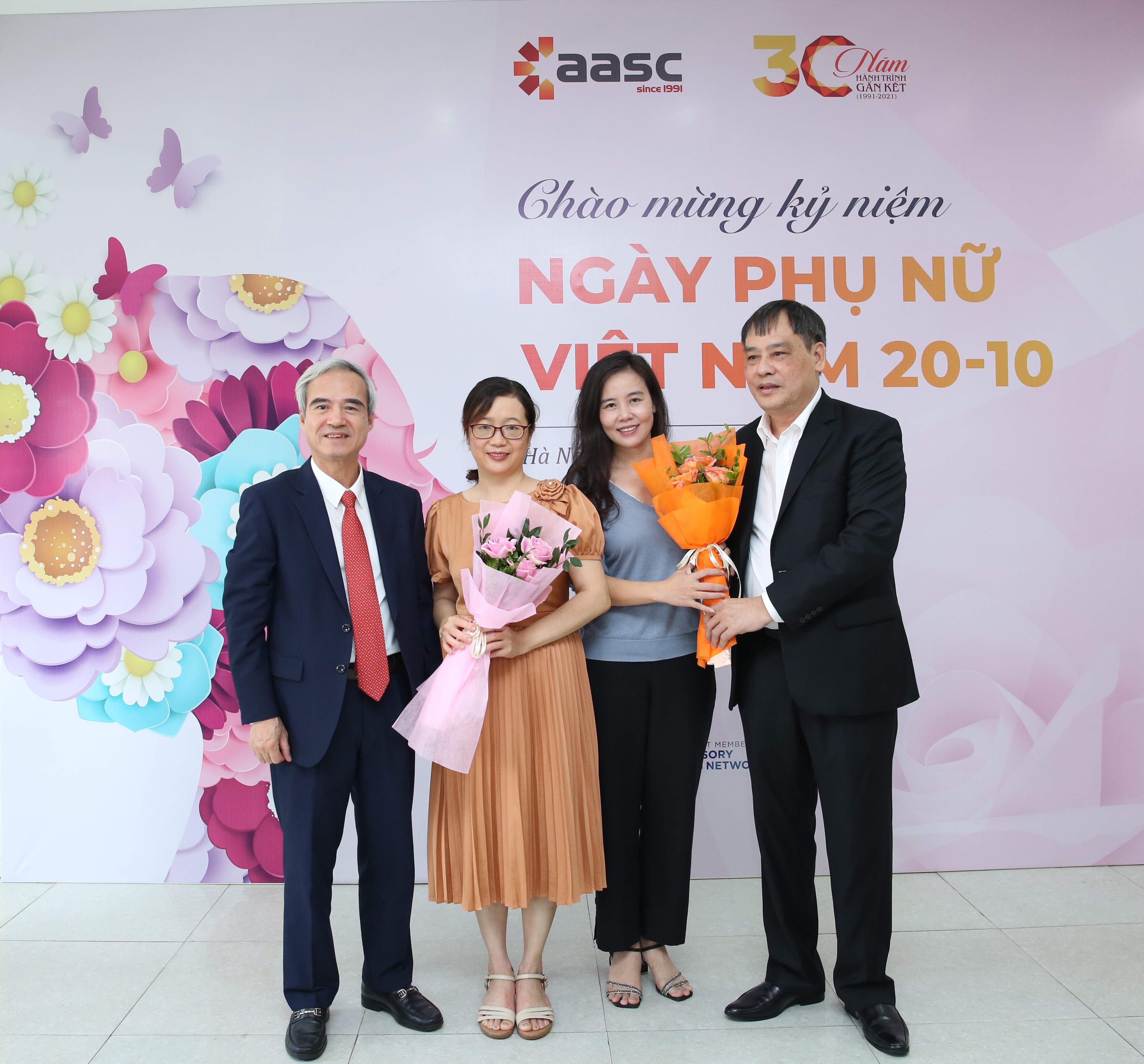 Mr. Bui Xuan Ngoc and Mr. Ngo Duc Doan gave flowers to the representative of the Women of the Board of Members of AASC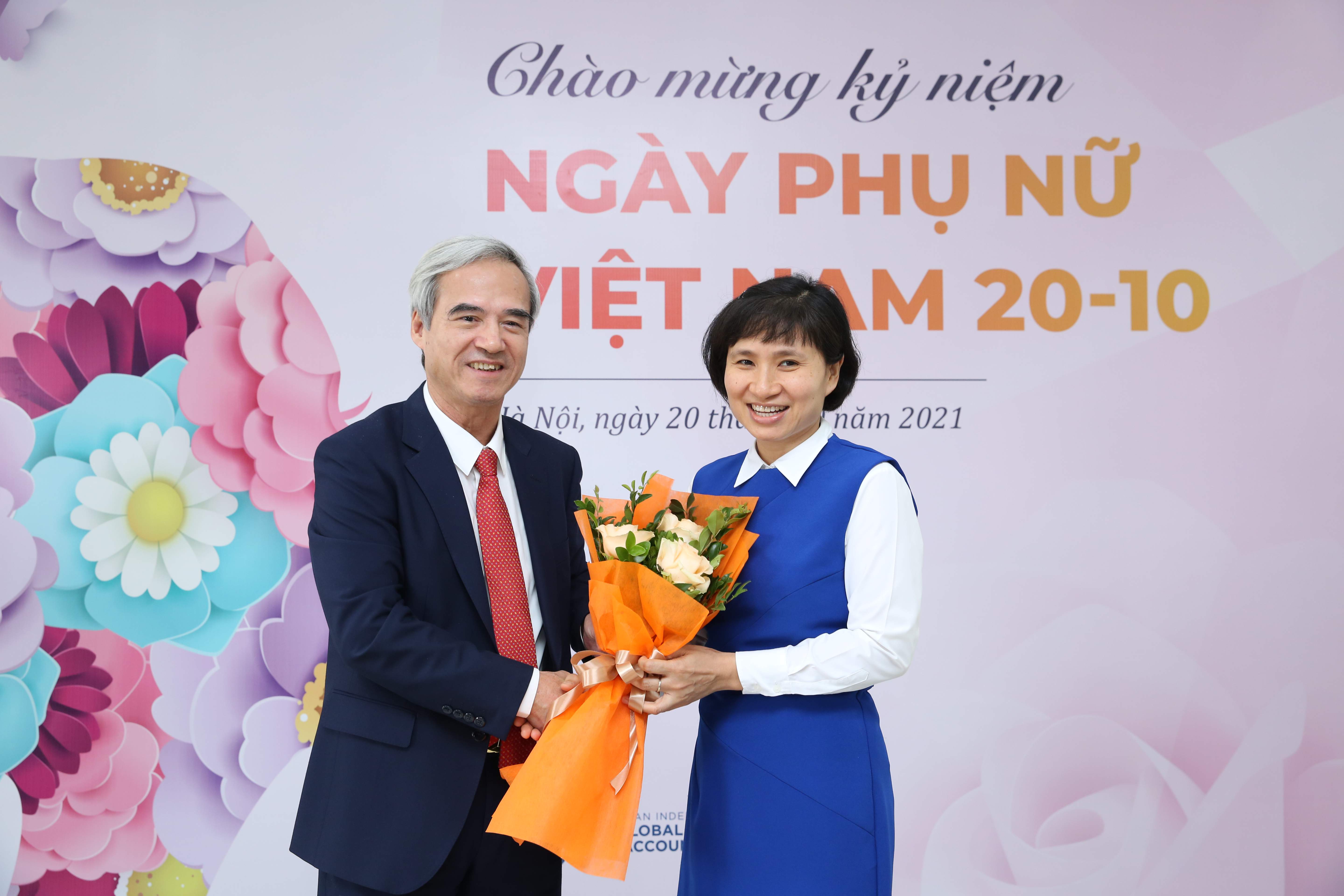 AASC Chairman Ngo Duc Doan presents flowers to AASC female staff members in Ho Chi Minh City branch, Quang Ninh branch (AASC Union Chairwoman Nguyen Lan Anh accepted on behalf)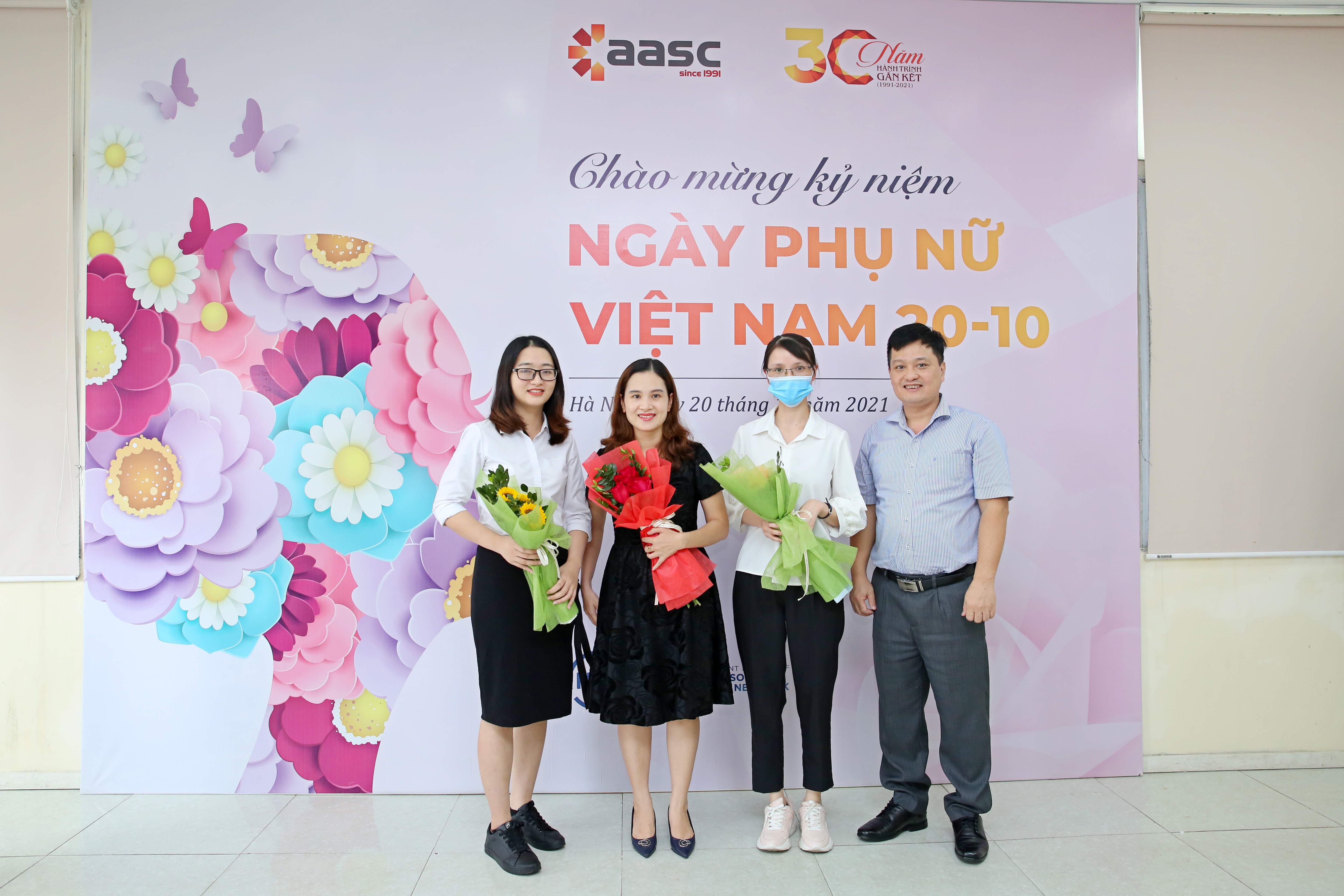 AASC Deputy General Director Vu Xuan Bien presents flowers to female representatives of the Auditing1, Auditing 2, Auditing 3 Departments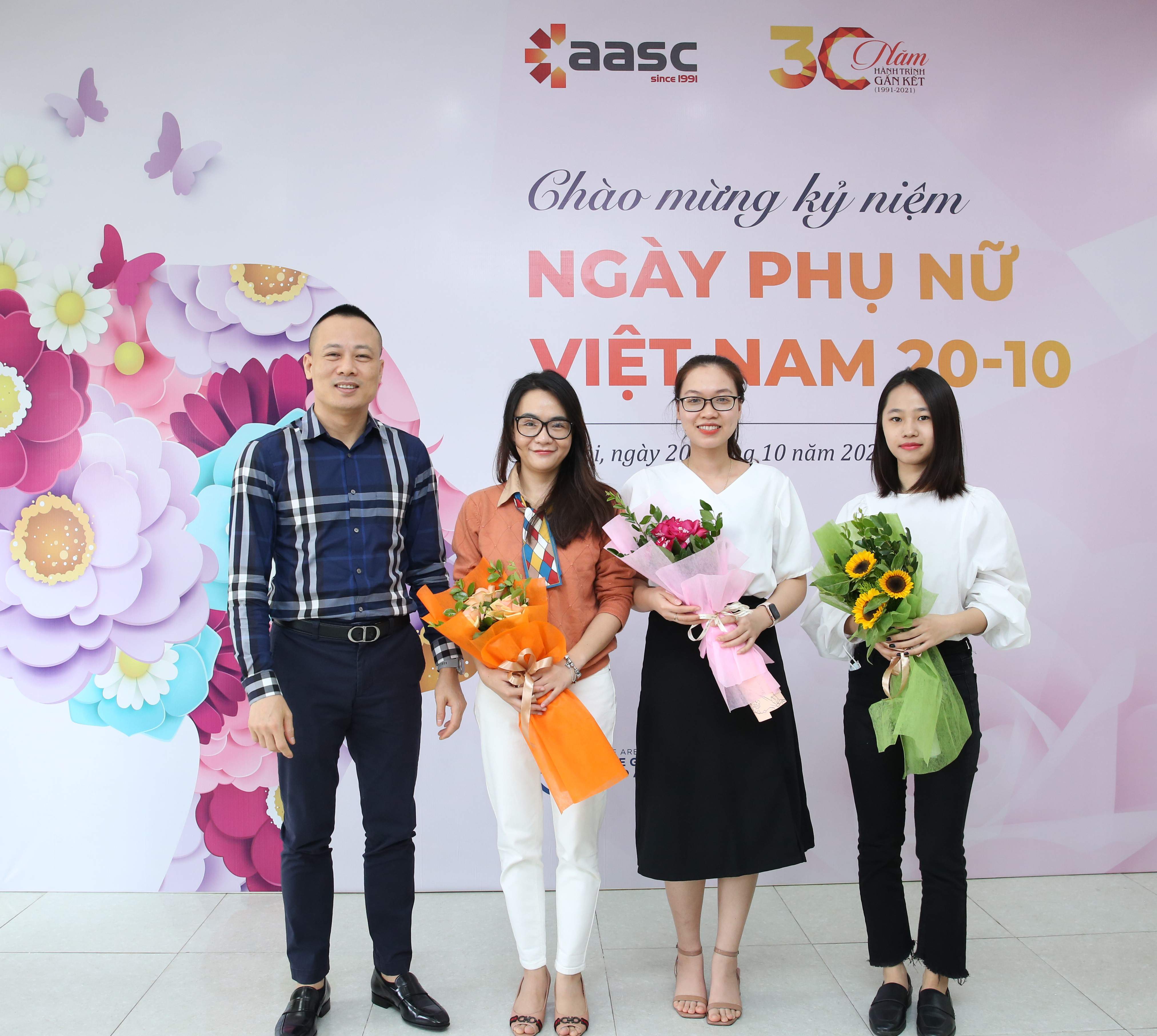 AASC Standing Deputy General Director Do Manh Cuong presents flowers to representatives of the Auditing 5, Auditing 6, Auditing 7 Departments
AASC Deputy General Director Pham Anh Tuan presents flowers to representatives of the Foreign Investment Service Division, Investment Finalization Audit Department, Project Audit Department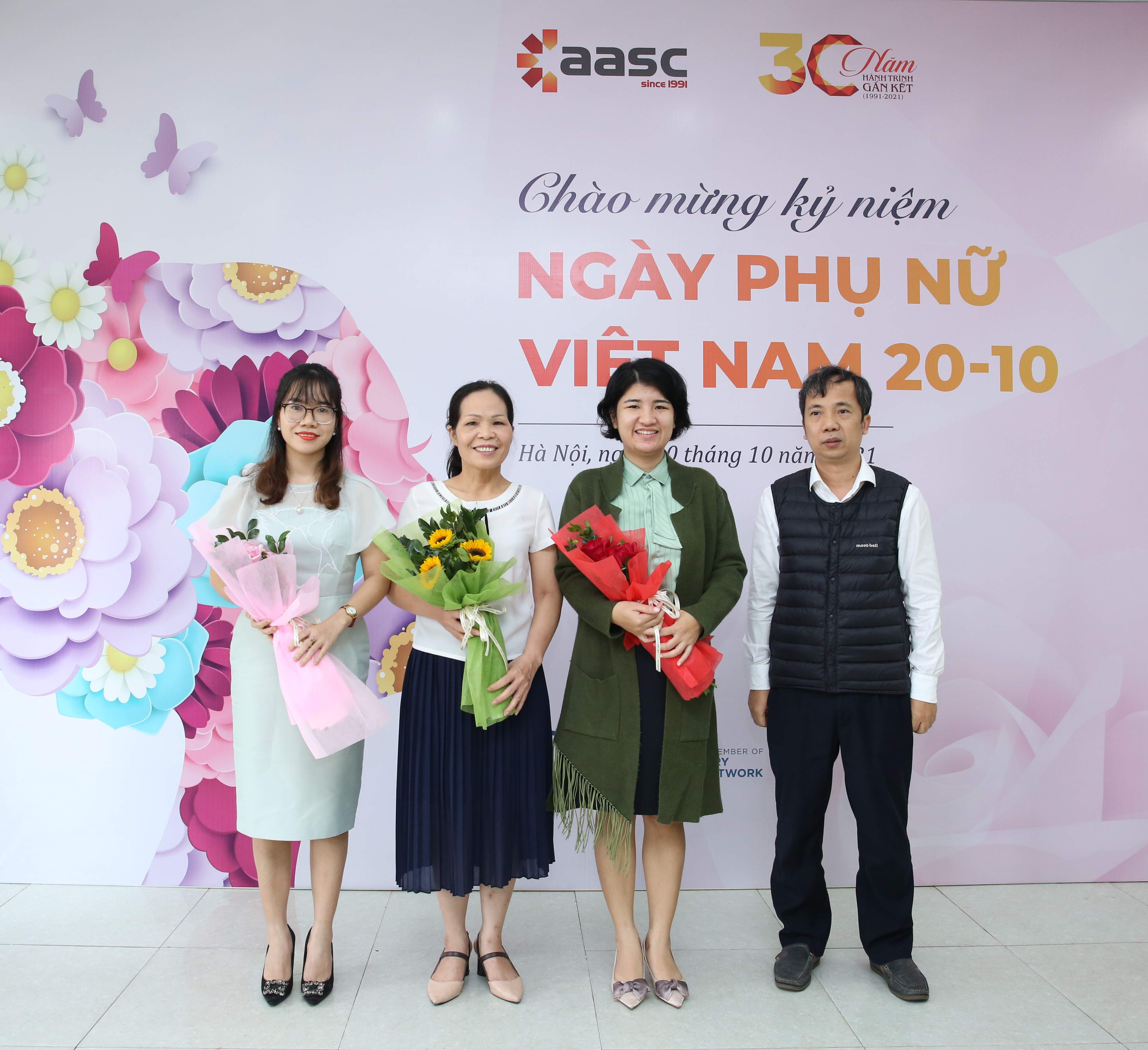 AASC Deputy General Director Pham Xuan Thai presents flowers to representatives of the Indirect Administration division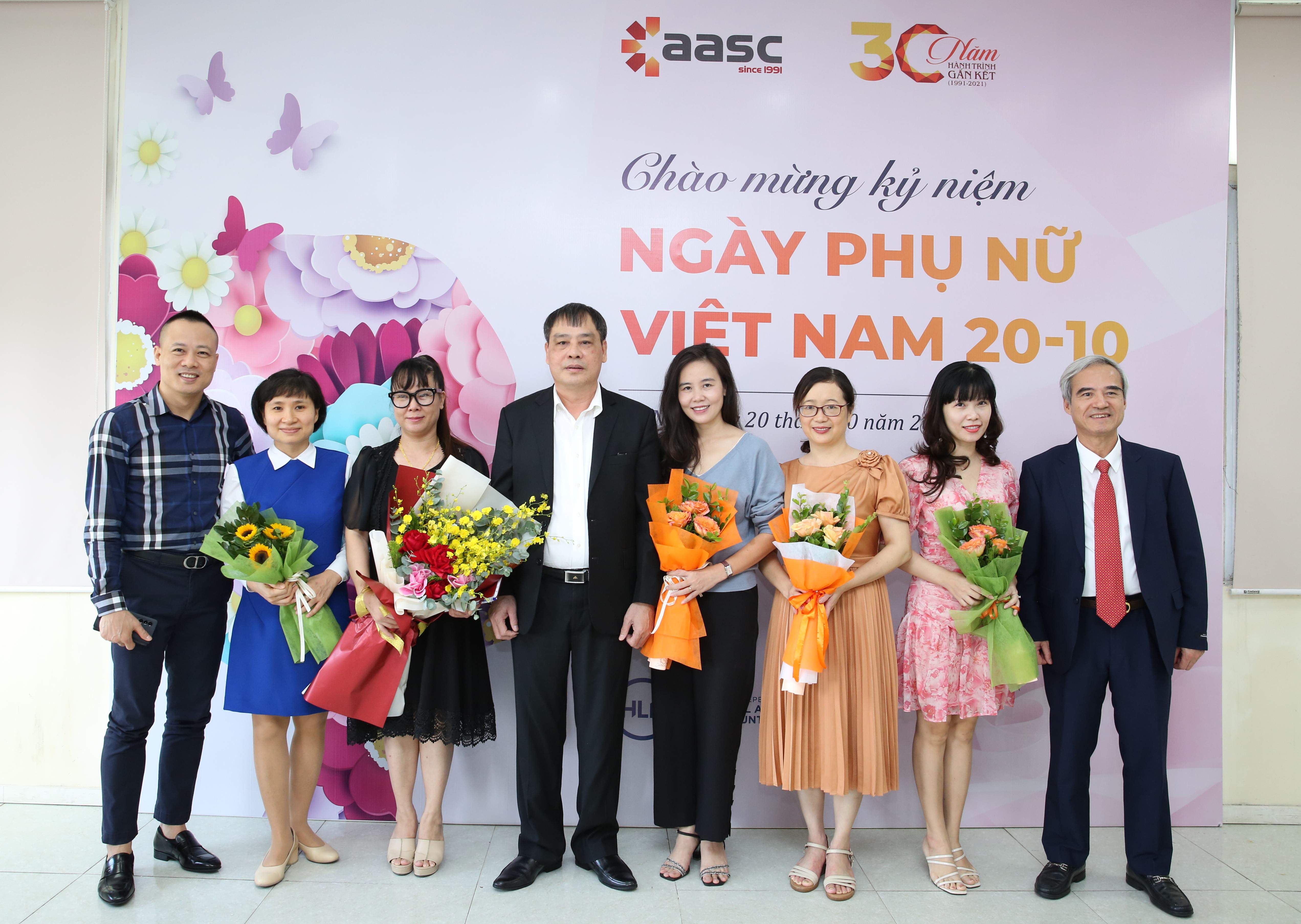 Representative of the Union of Ministry of Finance, Leader of AASC Audit Firm and representative of AASC female staff