On the morning of September 14, 2013, in Hanoi, AASC Auditing Firm held a cordial meeting to celebrate 20 year anniversary of Prime Minister's approval for AASC to rebrand and implement auditing services. Distinguished guests at the meeting include Assoc. Prof. Dr. Dang Thai Hung - Director of Accounting & Auditing Policy Department, Assoc. Prof. Dr. Tran Van Ta – Former Permanent Deputy Minister of Ministry of Finance (MOF) and Chairman of Vietnam Association of Certified Public Accountants (VACPA), Assoc. Prof. Dr. Dang Van Thanh – Chairman of Vietnam Association of Accountants and Auditors (VAA), Former Vice Chairman of the National Assembly Committee on Economic and Budgetary Affairs, Dr. Pham Huy Doan – Former Director of Auditing and Accounting Financial Consultancy Service Company (AASC), Mrs. Truong Thi Hoang Dieu – Deputy Director General of Department of Personal and Training, MOF.
At the meeting, on behalf of AASC Board of Management, Chairman of the Member Board, General Director Mr. Ngo Duc Doan reviewed the rise and fall of the company over 22 years of development, challenges and difficulties since its establishments, greatest milestones impressed upon AASC's generations of leaders and auditors. Reaching a consensus and sharing unanimous thoughts between members of the Member Board, under the sound and solid leadership of the Board of Directors as well as with the determination of all staff, AASC – a Vietnamese Auditing Firm has been like "a flagship flowing to the ocean", overcoming all obstacles to obtain great successes and achievements. Mr. Doan also pledged that AASC, besides the inheritance of traditional values and core values during over 2 decades of operation, will do its utmost to innovate, enhance service quality, improve professional knowledge of staff, integrate in auditing, accounting, tax and financial consultancy in the region and internationally, comply with Vietnamese and international auditing standards to maintain the trust from clients and partners locally and globally.
Speaking at the meeting, Assoc. Prof. Dr. Dang Thai Hung - Director of Accounting & Auditing Policy Department recognized, praised and congratulated AASC for its accomplishments and great contributions to the development of the independent audit profession in Vietnam. Mr. Hung also actively shared about the development strategy of independent audit profession in Vietnam towards 2020, with a vision to 2030 approved by Prime Minister. Additionally, Mr. Hung gave his commitments to support AASC to maintain its position as a leading company and a brilliant pioneer among Vietnamese Auditing Firms and to communicate AASC brand name nationwide and worldwide. Last but not least, Mr. Hung emphasized that AASC must always strive to strongly develop, gradually be equivalent to international auditing firm Big 4 operating in Vietnam.
AASC also received precious advisory, sharing, encouragement of Assoc. Prof. Dr. Tran Van Ta – Chairman of VACPA and valued visitors for the company development. In reply, Mr. Doan expressed sincere thanks to all distinguished guests and believed that with the interest and support from MOF, Ministries and Branches, relevant agencies, professional associations, AASC will successfully implement accounting and auditing strategy towards 2020, with a vision to 2030.
Photos of the meeting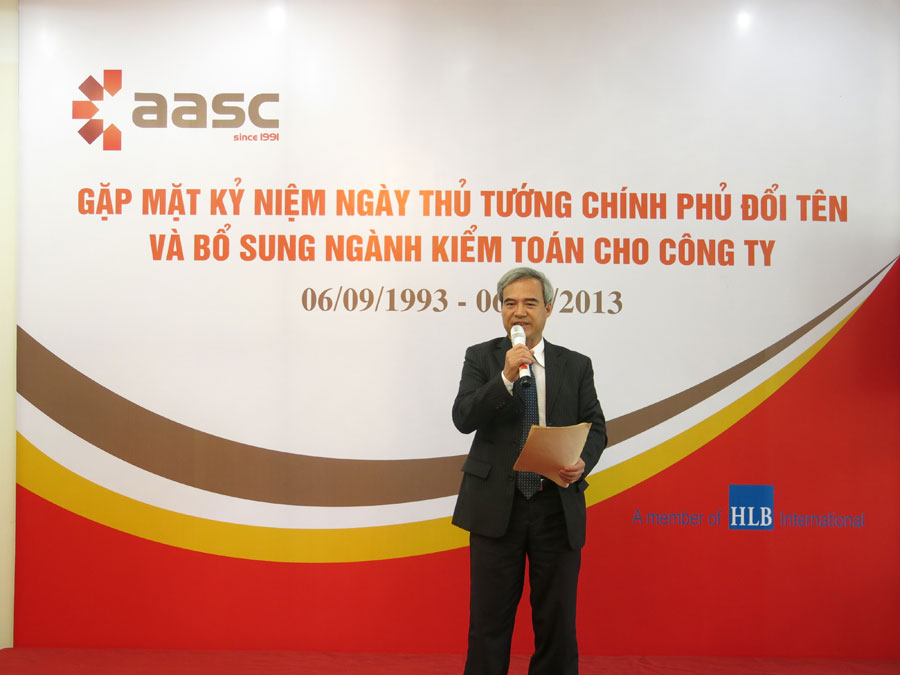 Assoc. Prof. Dr. Dang Thai Hung - Director of Accounting & Auditing Policy Department, MOF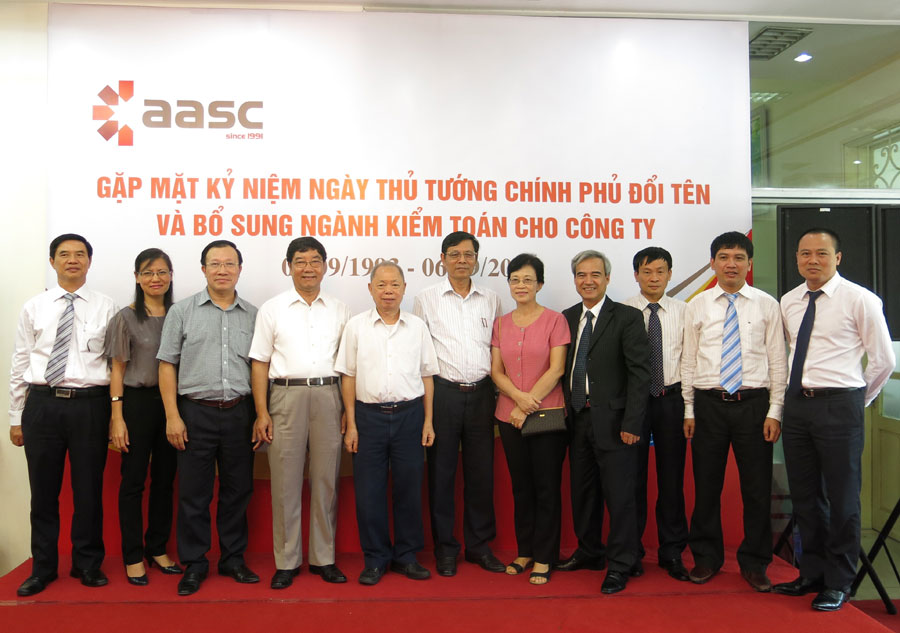 Valued visitors and AASC Board of Management