On 22 November 2016, at its headquarter, AASC Auditing Firm has organized the 10th Board of Member's meeting with the appearance of members and 02 distinguished guests: Senior Manager of Foreign Investment Service Department 2 and Audit Department 6 in a jubilant atmosphere to celebrate its achievements during 09 years since AASC's transformation from SOE (2007 – 2016), and maintain the TOP5 position in Vietnam Independent Auditing.
The Tenth Meeting was marked with number of highlights: Revenue increased by over 10% compared with the financial year VIII, audit services of the Company increased by 7.24%, in which audit services of project settlement rose by 17.64% compared to the previous financial year; the consulting service has witnessed a significant increase by 81.57%. The Member of Management Board of the Company has discussed thoroughly about setting targets, direction, and action plan of AASC auditing firm for the 10th fiscal year. With the appointment of two new Deputy General Directors, one Director at AASC's branch, one Senior Manager, AASC believes in the 10th fiscal year, the Company will achieve more success and towards the successful implementation of the development strategy of AASC.
At end of the meeting, Chairman of the Board of Member, General Director of AASC Auditing Firm, Mr. Ngo Duc Doan has praised for the efforts of the Board of Members, especially he showed his grateful for the significant contribution of Member of Board of Member - Deputy General Director Mr. Nguyen Quoc Dung, also Mr. Ngo Duc Doan called for wholehearted contribution of all members for AASC's development in the following years. The Chairman also believed that with the right strategy and the consensus of all members, Board of General Directors, auditors, managers and staff, AASC Auditing Firm will develop strongly and stably, confirming its leading role among Vietnamese auditing companies.
Images at the Meeting: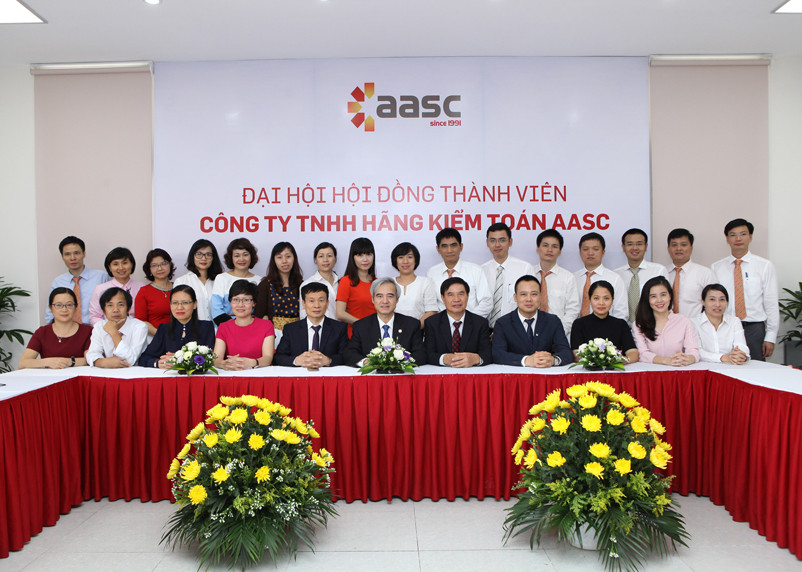 BBT