Vietnam's GDP growth promises to continue its upward trend while macro economy will also be strengthened in 2015, making the country's economy even brighter than in 2014, according to experts.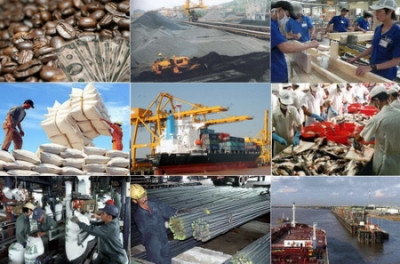 Optimistic forecast
The UN World Economic Situation and Prospects 2015 released on December 10, 2014 a forecast that the global economy would continue to grow in the next two years despite remnants of the global financial crisis, geopolitical challenges and negative effects of the Ebola epidemic in West Africa that has curbed growth.
The global economy is forecast to grow 3.1% in 2015 and 3.3% in 2016. However, the world will still face many challenges and confusion about restructuring and searching for a new growth engine, plus high and prolonged unemployment, increasing pressure from public debt, military and political tensions, and territorial disputes.
Forecasts by several international organisations said that, in 2015, Vietnam would achieve GDP growth of 5.8 to 6.2%; a CPI below 7% and export sector would gain more important breakthroughs by getting more active momentum from FTAs that Vietnam is and will be involved in, mostly the ASEAN Economic Community, TPP, and FTAs between Vietnam and the Republic of Korea, and with Customs Union of Russia, Belarus and Kazakhstan…
A resolution on the socio-economic development plan in 2015 passed by the National Assembly, with 89.54% of votes, has set a number of goals for 2015, targeting 6.2% GDP growth rate; total exports increasing by about 10%; deficit of about 5%; CPI about 5%; total social investment accounting for 30 to 32% of GDP; poverty rate falling by 1.7 to 2%; creating jobs for 1.6 million workers; urban unemployment rate at less than 4%; trained employees reached 50% and percentage of malnourished children under five dropping to below 15%.
According to the National Financial Supervisory Commission (NFSC), economic growth in 2015 will continue its recovery trend and the growth target of 6.2% is feasible. Meanwhile, the macroeconomic environment will have more favourable conditions to maintain its stability, especially for inflation control target.
With a forecast reduction of 33% in the world's oil price in 2015 and assuming that domestic petroleum prices also decrease respectively, NFSC estimates that domestic production costs will decrease by 3%.
Besides gains thanks to an improvement in consumption and private investment, according to the NFSC, there are still difficulties including the slow global economic recovery; lower oil prices affecting budget balance and investment for development; decreased global commodity prices; and a rapid decline of export growth, especially in the foreign invested sector.
Tourism, agriculture, and aqua-culture will continue to grow smoothly. Labour exports, including doctors and nurses, will be a focus in creating new breakthroughs for employment growth. Auxiliary industries will be gradually shaped and developed towards participating in the international supply chain with Vietnam's partners in FTAs.
However, difficulties remain among high-end real estate, mechanical industry, small and medium-sized businesses with outdated technologies, and stagnant State-owned enterprises with slow innovation in organisation, equipment, technologies and management capabilities.
The banking system is still facing pressure on bad debt, cross-ownership, governance improvement and standardisation of operation norms under international standards and integration commitments. M&A activities are expected to increase, especially in the field of real estate, consumer goods, banking, textiles, and mechanical engineering.
Priorities given to macroeconomic stabilisation
In the medium term, according to many experts, Vietnam's economy in 2015 will turn bright, in which the foreign investment sector continues to play an important role as a driving force of economic growth. Reforms in SOEs will be accelerated to achieve the set targets.
Accelerating reform of the banking sector continues to be a priority. Interest rates are unlikely to continue to decrease but credit growth will be facilitated due to more opened investment opportunities and credit conditions, thus creating a thrust to support economic growth. Bad debt is under control and is handled flexibly step by step under the goal of ensuring system's stability and gradually approaching common standards and practices.
Sectors expected to see strong growth in 2015 and onwards include real estate; construction materials and services; consumption services; consumer products; and agro-forestry products. Investing in open-ended funds is an option that has drawn more and more attention from private investors.
In particular, a new cycle of the real estate market is forming, increasingly growing in size and speed, and turning more stable and more efficient in the last years of this decade, with the most promising segment lying in social housing with reasonable areas and affordable prices.
To achieve the 2015 socio-economic development goals, Vietnam should implement effective strategic breakthroughs, focusing on economic restructuring associated with the conversion of the growth model; improving quality, efficiency and competitiveness of products, businesses and the economy; and raising the effectiveness of State management. It is also necessary to improve the efficiency of public investment, while securing public debt, government debt and foreign debt within the national security limits.
There is also special need to ensure disbursement from the State budget, government bonds, and ODA for infrastructure development, especially for key facilities that are likely to be completed in 2015 and for urgent projects on residential stability and facilitating livelihoods for people.
Vietnam should effectively implement international treaties to which it is a party; actively negotiating and signing bilateral and multilateral FTAs; participating in building the ASEAN Community in 2015; and promoting appropriate communication, guidance and support to businesses and individuals to be more active in the integration process.
Positive growth for Vietnam's economy will be realised once economic development goes together with the promotion of comprehensive reform, acceleration of economic restructuring associated with growth model innovation, and improvement of State management capacity, in addition to promoting democracy and strengthening anti-corruption work.
Confidence reflects efficiency and contributes to the success of national policies. Maintaining and strengthening confidence has increasingly become an orientation and regular, consistent task; as it is both an objective and a motivation for the reform and development processes of the country and business community.
Dr. Nguyen Minh Phong
Source: Nhandanonline