The trend to rent a house instead of buying increases dramatically in Hanoi and Hochiminh City, nowadays.
High demand for house
Demand for house experiences dramatically increase in large urban areas with high urbanization speed. The population of Vietnam currently is over 90 million people, of which, the urban population accounts for 32.5%, especially in Hanoi or HCMC. It is estimated that inhabitants in Hanoi and Hochiminh are approximately 7.1 million and 7.8 million, respectively.
Of 14.9 million people, 6.3 million people are at working age and more than 6 million people are employed. According to the market research, it is estimated that about 10% of employed people hunger for houses, average size of households was 3.85 persons, therefore, at least 155,800 families are in need housing.
Therefore, buying or renting a house is big decision for inhabitant. According to CBRE, the trend to rent a house seems to be reasonable to many people.
Vietnamese used to stick with the traditional option of buying a house for the settlement. Besides, some of them suppose that the real estate might bring benefit in short-term of 1-2 year or might be longer 5-10 years. Additionally, inhabitants who own houses, especially in Hanoi or Hochiminh could have return from the leases.
However, recent pressure from the increase in immigration leads to the boost of house renting in Vietnam. House renting used to be supposed "temporary" and is not a preferred choice of the majority of Vietnamese.
According to the survey of housing resources in Hanoi and Hochiminh city: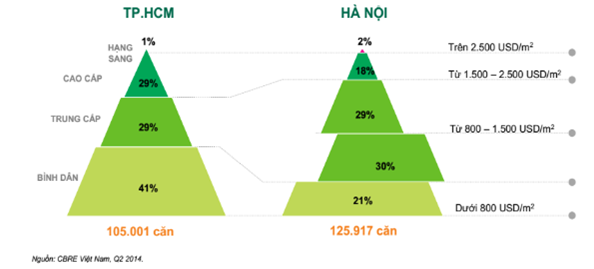 Buy or rent?
According to the survey of CBRE Vietnam, Vietnamese have more choice to buy or rent houses due to current interest rate. In Vietnam, real estate price is much higher than average income, especially 5-10 years ago. However, the housing market experiences the recession, housing prices were pretty lower than before. Besides, the appearance is widespread source of cheap houses from 500-800 USD / m2 has made owning an apartment becomes more feasible.
Interest rate of home loans was also down for four consecutive years, from a peak of 21% / year in 2011 to less than 12% / year this year.
According to CBRE, with middle level apartments at VND 1.6 billion, young families can afford to pay 50% equivalent to VND 800 million and assume their mortgage lending flat 50% within 15 years with average interest rate of 12%, then, according to CBRE, every month they have to pay both principal and interest in approximately 9.6 million / month. After deducting the opportunity cost of apartment prices, income from savings, net payments to buy a house is about VND1.3 billion.
Meanwhile, according to CBRE, for renting the equivalent apartments in Hanoi and Hochiminh City, people have to pay around VND 6 million /month and approximately VND 7 million /month, respectively. Assuming that renting price rose by 2% per year, the total cost after 15 years lease in Hanoi around VND 1.29 billion and VND 1.5 billion in HCMC.
As the result of this study, it is better to buy house in Hochiminh City and rent house in Hanoi. However, it is noted that, interest expense should be firstly considered because it depends on the high or low prepaid amount. Therefore, if inhabitant in Hanoi can prepay a large sum of money, their better choice will be "buy". And in HCMC, with higher rent than in the Hanoi and conditions as the incentive interest rate from bank, it will be the better buy.
Source: Brief news from Gia Bao, Infonet