On the afternoon of 23/06/2014, at AASC head office, Chairman of the Member Board, General Director of AASC Ngo Duc Doan received and worked with representatives of the Institute of Chartered Accountants in England and Wales (ICAEW) including Mr. Mark Billington FCA, Regional Director of ICAEW Southeast Asia and Mrs. Dang Thi Mai Trang, Head of ICAEW Vietnam.
At the meeting, on behalf of ICAEW representatives, Mr. Mark Billington introduced the establishment and development stages of ICAEW. With approximate 136,000 members in more than 160 countries and over 130 years working in the field of accounting and auditing, ICAEW has established quality control procedures that satisfy international standards on accounting and auditing applied in the European countries and over the world. Mr .Mark Billington also appreciated the potential of Vietnam economy in general and Auditing, Accounting market in particular. Head of ICAEW Vietnam, Dang Thi Mai Trang emphasized, according to the commitment with Ministry of Finance and following the Memorandum of Understanding between ICAEW and Vietnam Association of Certified Public Accountants (VACPA), ICAEW will continue to broaden partnership and promote activities aimed at developing high-quality human resources and empowering Auditing, Accounting profession in Vietnam and the Southeast Asia. Dang Thi Mai Trang hoped that AASC will appoint officials with good qualifications and extensive experience to participate in training courses to become members of ICAEW in the coming time.
On behalf of AASC leaders, Chairman of the Member Board, General Director Ngo Duc Doan recognized the support that ICAEW expressed to AASC through the visit of Mr. Mark Billington and congratulated Mrs. Dang Thi Mai Trang to be appointed head of ICAEW in Vietnam - the world's leading professional network in the domain of finance and accounting. Mr. Doan believed that with the credibility and knowledge achieved after years working at the Association of Chartered Certified Accountants (ACCA), the Ministry of Finance and the State Treasury, Mrs. Trang will positively contribute to the establishment and development of ICAEW in Vietnam as well as deploy robustly activities to support auditing and accounting profession. Mr. Doan also hoped that AASC will have a lof of outstanding staff to join ICAEW as its members, and the two parties would foster close cooperation and support each other for the development of independent audit profession in Vietnam.
Photos of the meeting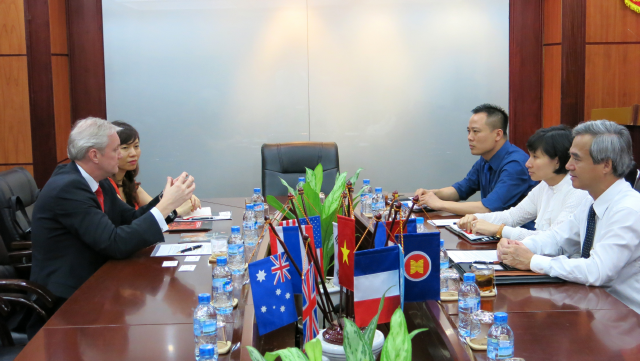 BBT